Ideal CU Promotes Financial Literacy with MN Dept of Commerce
OAKDALE, Minn. – Financial Literacy Month is well underway. To celebrate, Ideal Credit Union (Ideal CU) invited Minnesota Department of Commerce Commissioner Mike Rothman to tour its student credit union branch Thursday at Tartan High School and observe peer-to-peer financial education in action. The Woodbury-based credit union hosted a grand opening for its student-run branch in February and is using it as a tool to aid in financial education efforts at the Oakdale high school. Student workers at the in-school branch led sessions in classrooms throughout the day Thursday, teaching their fellow students about financial topics and money management. Commissioner Rothman attended afternoon classes and spoke with students about the importance of youth savings and financial education.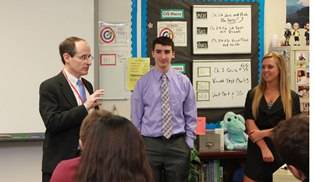 Right - Dept. of Commerce Commissioner Mike Rothman (left) talks with students at Tartan High School during a Financial Literacy Month event featuring education sessions led by student workers Marc Buchmayer (center) and Kelsie Ferstl (right). Buchmayer and Ferstl help run Ideal Credit Union's in-school student branch.
Left - Ideal CU Managment, Tartan Deca Students and teacher, Commissioner Mike Rothman, and representatives from the MN Credit Union Network trade association gather in Ideal CU's Tartan Student Branch to celebrate Financial Literacy Month!

See more photos on Ideal CU's Facebook page

"Financial literacy can mean the difference between getting ahead and falling victim to the pitfalls associated with poor use of credit," said Rothman. "Opening a savings account at a financial institution can provide fundamental skills, as well as teaching proper budgeting and setting short-term and long-term goals."
Also as part of Financial Literacy Month, the Department of Commerce is coordinating several events in the coming weeks, including its third annual Financial Literacy Roundtable in St. Paul. This event brings together approximately 200 groups from nonprofits, local governments, private enterprises and financial institutions to share ideas on financial education efforts. The Minnesota Credit Union Network and Minnesota Credit Union Foundation are regular attendees, along with credit union representative from around the state.
The Ideal CU event and the Financial Literacy Roundtable are two of nearly 40 outreach and education events across Minnesota scheduled by the Commerce Department throughout April. These events are intended to raise awareness of the need for consumers to have the skills to make well-informed financial decisions at all life's stages. The Department of Commerce's events this month target four categories: youth, higher education, families and seniors.
Ideal CU is also participating in the National Youth Savings Challenge as a part of National Credit Union Youth Week. The Tartan Ideal CU Student Credit Union is joining hundreds of other credit unions across the country to teach youth the benefits of saving. Ideal CU will be giving $100 to a lucky student who opens an account or makes a deposit during the month of April.
"Ideal CU's event during Financial Literacy Month and participation in the Savings Challenge serve as opportunities to build strong relationships with young credit union members in the community – and their families – by reinforcing the value of financial education and the benefits of credit union membership. Our goal is to help youth start smart money management habits, while creating member loyalty," said Alisha Johnson, Ideal CU's Senior Vice President – Marketing, Sales and Service.