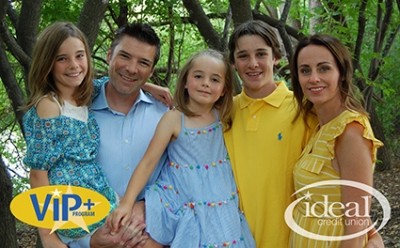 (Woodbury, MN – January 7, 2022) – Ideal Credit Union is pleased to announce its VIP+ program has rewarded members with an annual dividend payout of $472,250 for 2021 earnings. This latest dividend payment marks a key milestone in Ideal Credit Union's VIP+ program with payouts now totaling over $5 million dollars since the program began.
The VIP+ program is designed to reward people for being active members at the Ideal Credit Union. The payouts were awarded to 3,602 VIP+ members in the form of cash dividends ranging from $50 to $600.
"We always say it pays to be a member of Ideal Credit Union and we take pride in our ability to take a share of our earnings and give them back to our VIP+ members," said Brian Sherrick, Ideal CU President/CEO. "Our dedicated staff works with members throughout the year to help them get involved in the VIP+ program, identify opportunities to grow their relationship with Ideal and ultimately increase their cash payout."
The dividend payout amounts are based on a member's deposit and loan accounts throughout the calendar year. The dividend is deposited directly into VIP+ member's savings accounts. Many long-time Ideal Credit Union members participate in the program including Shannon B. from Woodbury, Minnesota. Shannon joined over 39 years ago and wouldn't bank anywhere else. "I've received a VIP+ payout every year since the program began. I love that Ideal Credit Union appreciates me and the accounts I have with the credit union." – Shannon B.
To learn more about Ideal's VIP+ Program visit idealcu.com/vip.