Low Rate Business Lending
We know you have big ideas for your business. We're here to help you make them a reality. With an Ideal Business Loan or Line of Credit, you can achieve a low rate, affordable payment, and get back to what you do best — growing your business.
Loan Products
Business Term Loan
Business Term Loan
Grow and maintain your business with our competitive rates
Use an Ideal Business Term Loan to afford the tools and equipment you need to grow and maintain your business.
Business equipment
Machinery and vehicles
Office fixtures and leasehold improvements
Expansion and renovations
And more
Apply for a Business Term Loan
To apply, contact Ideal CU Senior Business Relationship Specialist Josh Anderson at 651-773-2763 or by email at This email address is being protected from spambots. You need JavaScript enabled to view it..
Business Real Estate
Business Real Estate
Finance your business properties and expansions
Rely on Ideal's competitive business real estate loans for new property purchases or to refinance existing commitments.
Fixed rates on eligible 15-year loans, with amortizations up to 25 years
Real Estate Secured Line of Credit that features interest-only payments
Business properties — both owner and non-owner occupied
Rental housing or apartments
Combination business & residential properties
Apply for a Business Real Estate Loan
To apply, contact Ideal CU Senior Business Relationship Specialist Josh Anderson at 651-773-2763 or by email at This email address is being protected from spambots. You need JavaScript enabled to view it..
Business Credit Card
Visa® Business Platinum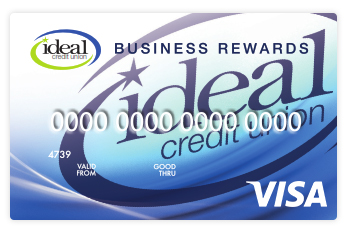 An ideal credit option for everyday business spending
Enjoy no annual fee and a low variable rate with an Ideal CU Business Visa Platinum Credit Card. Credit lines start at $5,000 and various spending limits can be set for each employee.
No annual fee
No interest on balances paid within 25 days
Easy to manage
The Ideal Visa Business Platinum allows you to create individual spending limits for each of your employees. Credit lines start at $5,000.
Apply for an Ideal Visa Business Platinum Credit Card
To apply, contact Ideal CU Senior Business Relationship Specialist Josh Anderson at 651-773-2763 or by email at This email address is being protected from spambots. You need JavaScript enabled to view it..
Business Line of Credit
Unsecured Business Line of Credit
Easy access to funds when you need them
Available for working capital
Low monthly payments
Protects your checking accounts from overdrafts
Apply for an Unsecured Business Line of Credit
To apply, contact Ideal CU Senior Business Relationship Specialist Josh Anderson at 651-773-2763 or by email at This email address is being protected from spambots. You need JavaScript enabled to view it..