A Community Partner
Giving Back to The Community
Ideal CU employees, members and volunteers are always willing to lend a hand. Whether it's delivering meals to local seniors, collecting coats for kids, working the registration table at fundraising events, packing pallets of food, or putting together a team for Relay for Life, volunteers put the credit union philosophy of "people helping people" into action throughout the year.
Meals on Wheels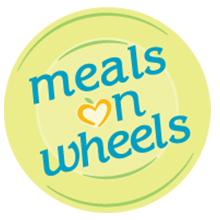 For the past 14 years, a dedicated group of Ideal CU volunteers have delivered meals to elderly and disabled recipients in the North St. Paul area through the Gladstone Meals on Wheels program. To-date the group has never missed a scheduled delivery. The number of meals delivered can range from 6-12 a week, which is over 5,500 meals in the past 14 years. Our volunteers have developed special relationships with these recipients and they look forward to their deliveries to touch base and catch up. The credit union's involvement has provided a stable, reliable source of delivery every Thursday for 14 years.
Second Harvest Heartland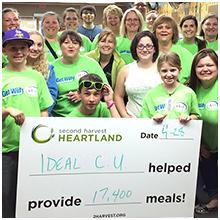 Since October of 2012, Ideal Credit Union has sent a group of 20-25 volunteers twice a year to Second Harvest Heartland to pack boxes of food for our hungry neighbors. While most people like to relax after a busy day at work, groups of ambitious and dedicated employees and family members roll up their sleeves and try to surpass previous records for filling boxes and packing food. In the past year alone, volunteers filled 1,850 boxes, over 26 tons of food, which will provide 44,375 meals to those in need.
Salvation Army Coats for Kids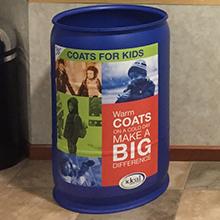 Ideal CU and the Ideal Community Foundation have partnered with the Salvation Army since 2010 to serve as a drop-off site and to provide monetary support for the Coats for Kids program. Collection barrels are placed year-round in Ideal CU branch locations to promote participation. To-date Ideal CU members, staff and community members have donated over 1,000 coats and close to 300 accessories to ensure children in the Twin Cities had adequate outerwear for the winter. The Ideal Community Foundation has also donated $10,500 to help purchase additional outerwear for local children.
Money Talks Financial Literacy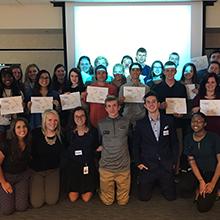 Ideal Credit Union is committed to financial literacy. That's why in 2013 we opened a student-run credit union at Tartan High School. Located inside the school store and managed by Ideal student employees, the credit union is available to students, staff and parents who want to open accounts, transfer funds and more.
Three times each school year the Ideal student employees teach the Money Talks Financial Literacy Program. This award winning course gives Tartan students the chance to learn about finance and earn $100 upon completion of the "I'm Financially Ready" exam. Due to increased popularity, Ideal Credit Union now offers the Money Talks course twice each summer to members and member-affiliates age 16-22.
Casual for a Cause
"Casual for a Cause" is a popular monthly internal fundraising activity that began over 25 years ago that gives employees the opportunity to wear casual clothing (jeans) on designated Fridays for a minimum contribution of $2.00. A total of 121 Ideal CU employees currently contribute each pay period, which helps raise over $6,500 per year. Members and branch guests are also encouraged to donate. Funds are donated to a different charity each quarter as determined by the Causal for a Cause Committee. These worthy causes have included Meals on Wheel, Second Harvest Heartland. Local Area Food Shelves, Local Veteran Outreach and the Salvation Army Coats for Kids.
Don't Text & Drive Awareness Campaign
Ideal Credit Union launched a don't text and drive awareness campaign in September 2016 designed to call attention to the dangers of distracted driving and encourage the public to take a pledge to put the phone away when they get behind the wheel. The "Stop the Texts, Stop the Wrecks" campaign consisted of 15 and 30 second TV ads on Twin Cities stations WCCO and KSTP.