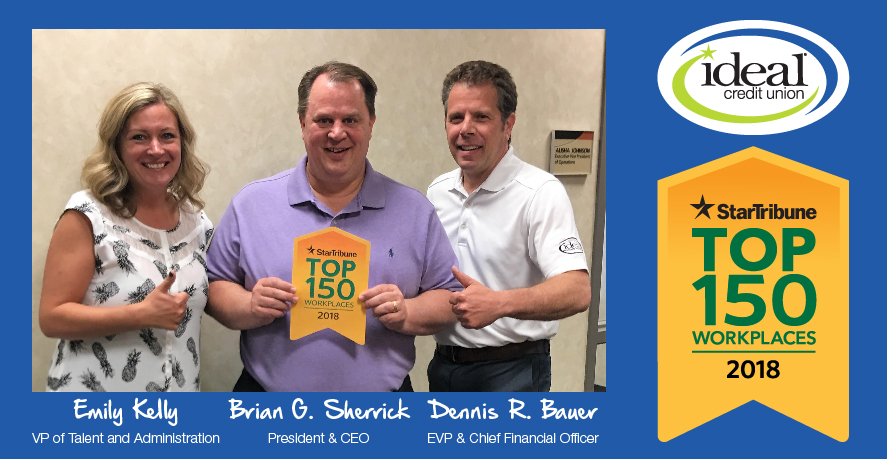 (Woodbury, MN – July 5, 2018) Ideal Credit Union has been named one of the Top 150 Workplaces in Minnesota by the Minneapolis Star Tribune. Top Workplaces recognizes the most progressive companies in Minnesota based on employee opinions measuring engagement, organizational health and satisfaction. The rankings in the Star Tribune Top 150 Workplaces are based on survey information collected by Energage, an independent company specializing in employee engagement and retention. Ideal was ranked 38th on the midsize company list.
A total of 137 Ideal employees completed the independent survey and provided over 330 comments and suggestions, according to Emily Kelly, Vice President of Talent and Administration. "These results are amazing! Our response rate was 89% and the benchmark is 78%. Our employees' feedback is important because it helps us to continue to grow as an organization and provide exceptional service to our members. We care about each and every one of our employees and want to make sure we are providing them with a great company to work for."
Ideal has always had a strong commitment to employee education, development and advancement, and prides itself on being a learning organization. "Happy employees are productive employees that give 100% each and every day, and we are fortunate to have such a dedicated team," said Ideal CU President/CEO Brian Sherrick. "I would like to extend my gratitude to everyone who shared their thoughts and opinions. Our Board of Directors, executive staff and I are committed to making Ideal the best possible workplace to serve our members."
Employees at Ideal Credit Union enjoy a positive work environment in which they are encouraged to succeed, grow and advance their careers with competitive pay and a generous benefits package. Ideal's commitment to employee well-being and providing a stable, comprehensive benefits package was nationally recognized in 2011 by Principal Financial Group as one of the 10 Best Companies for Employee Financial Security. Current job openings can be found at www.idealcu.com/employment-opportunities.
Ideal Credit Union was also recently named "Best Credit Union in the East Metro" for the second year in a row by readers of the Stillwater Gazette newspaper. Ideal became the first credit union to operate in the community in its 164 years of existence when its Stillwater branch opened for business in December of 2016. Ideal has had a strong presence in the east metro for 92 years.
Founded in 1926, Ideal Credit Union is a member owned financial institution that is dedicated to providing financial services driven by a sincere and personal interest in the needs of our employees, members and community. Ideal CU offers a complete range of services, including a full suite of electronic banking products, savings, checking, loans, mortgage products, exclusive VIP member payback, business services, investment services and more. Offices are located in Eagan, Hugo, Inver Grove Heights, North St. Paul, Stillwater and Woodbury. Visit idealcu.com for details and directions. Equal Opportunity Employer. Equal Housing Lender.