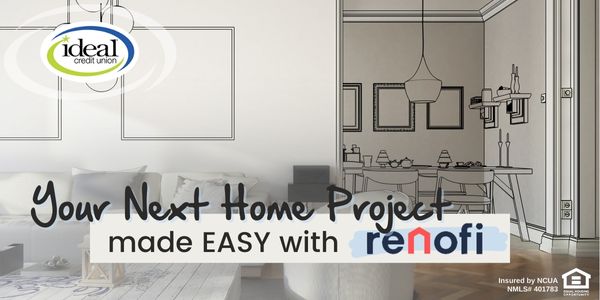 Woodbury, MN (January 26th, 2023) — Ideal Credit Union is announcing a new partnership with RenoFi to empower members with an innovative approach to financing home renovations.
The RenoFi Renovation Home Equity Line of Credit is a flexible alternative to traditional HELOCs. You can choose between a fixed or variable rate loan of up to 80 percent of your home's after-renovation value. Loan amounts range between $25,000 and $500,000, and you'll have access to the full amount at closing.
With Ideal's renovation loan, powered by RenoFi, homeowners are able to borrow based on their home's after renovation value, allowing members to borrow enough to tackle their entire renovation while still maintaining their first mortgage rate.
"An Ideal renovation loan with RenoFi allows members to borrow enough for their entire renovation without refinancing which is very important to members locked into low mortgage rates," said Rick Blood, Chief Lending Officer at Ideal Credit Union. "The loan is easier to navigate compared to a traditional construction loans, because the member gets all the loan funds up front."
A RenoFi loan through Ideal Credit Union has many great benefits for members looking to finance a large renovation:
Get the funds you need for the whole project -- up to 90% of your home's post- renovation value (up to $250,000).
Enjoy the flexibility of a Home Equity Line of Credit and a competitive rate.
Skip the hassles of a construction loan. No need to worry about draws, inspections, and extra headaches.
Avoid If you've already locked in a great rate on your first mortgage, you can keep it.
"The renovation market is expected to grow substantially and we're pleased to partner with Ideal Credit Union to bring innovative financing solutions to their members," said Lee Miller, President & Co-founder of RenoFi.
About Ideal Credit Union
Founded in 1926, Ideal Credit Union is a member owned financial institution that is dedicated to providing financial services driven by a sincere and personal interest in the needs of our employees, members and community. Ideal CU offers a complete range of services, including a full suite of digital banking products, savings, checking, loans, mortgage products, business services and more. Offices are located in Eagan, Hugo, Inver Grove Heights, North St. Paul, Stillwater and Woodbury. Visit idealcu.com for details and directions. Ideal has been voted "Best Credit Union in the East Metro" five years in a row by readers of the Stillwater Gazette, "Best Credit Union in the Forest Lake Area" by readers of the Forest Lake Times, and was named a 2021 Star Tribune Top Workplace. Federally insured by NCUA. Equal Housing Lender.
About RenoFi
Renofi is the renovation enablement platform company that empowers lenders to offer best-in-class financing solutions that better meet the needs of today's homeowners. The company offers the only end-to-end loan origination and underwriting platform specifically built to enable renovation lending, allowing homeowners to borrow against their home's post-renovation value, instead of the home's current value, and increasing borrowing power by 11x on average. The company is backed by leading investors including Canaan, First Round Capital, Nyca Partners & CMFG Ventures. To learn more please visit https://www.renofi.com/.