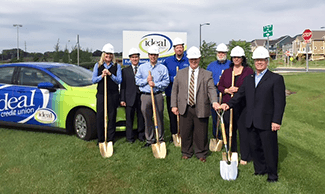 (Woodbury, MN – September 23, 2015) – Ideal Credit Union held a ceremonial groundbreaking for its new Inver Grove Heights location on Wednesday, September 23, 2015. The ceremony took place at the site of the new office at 7791 Amana Trail, in the Argenta Hills development. Argenta Hills is a planned community consisting of 140 single family homes and over 370,000 square feet of retail space, located at the intersections of Highway 55 and South Robert Trail in Inver Grove Heights.
The new Inver Grove Heights office will be approximately 3,000 sq. ft. and offer a tech-savvy approach to traditional banking, utilizing technology and self-serve features both inside and out.
Contractors James Steele & Company is in charge of the Inver Grove Heights project. The office is scheduled to open in Spring of 2016. Upon completion of the new branch, the credit union's West St. Paul location at 1725 South Robert Street will be sold to a private developer.
Ideal CU has also purchased land in Stillwater and will construct a similar branch at 2020 Washington Avenue. A completion date has not been set, but is anticipated for the fall of 2016.
"We are excited about the opportunity to expand to these new locations and offer a more contemporary approach to traditional banking," commented Ideal CU President/CEO Brian Sherrick.
The Ideal Credit Union senior leadership team and board members were joined by the City of Inver Grove Heights City Administrator - Joe Lynch, Inver Grove Heights City Council Member - Jim Mueller, and President of the River Heights Chamber of Commerce - Jennifer Gale. Also in attendance MNCU Vice President General Counsel – John Wendland, MnCUN Vice President Governmental Affairs - Mara Humphry, James Steele & Company Executive Vice President - Andrew Naughton, Collaborative Design Group Incorporated AIA, Principal - Bill Hickey and Associate AIA, Project Manager - Elizabeth "Bess" McCollough.
Founded in 1926, Ideal Credit Union (formerly Postal Credit Union) is a member owned financial institution that specializes in providing excellent member service, great rates and convenience. Ideal CU offers a complete range of services, including 24/7 loan approval, mortgages, online banking, online deposits, mobile banking, mobile check deposit and mobile bill pay, Apple Pay, free checking, business services, investment services and more. Ideal CU serves the Twin Cities metro area with office locations in Eagan, Hugo, North St. Paul, West St. Paul and Woodbury.