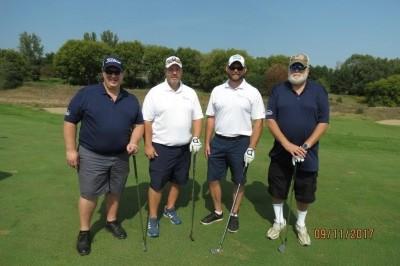 (Woodbury, MN – October 6, 2017) A strong showing of support enabled the Ideal CU Community Foundation to raise $25,560 at its 8th annual golf tournament on September 11, 2017, which is an increase of $2,300 from the previous year. The event, held at StoneRidge Golf Course in Stillwater, attracted 103 golfers and 36 sponsors. The foundation will use the funds to aid local education, food shelf and community initiatives.
"We are extremely grateful for the tremendous support of our vendor partners, credit union colleagues, board members and executive staff in helping to make this 8th annual event a huge success," said Ideal Community Foundation Chairman and Ideal CU President/CEO Brian Sherrick. "Thanks to their participation, generous raffle donations and sponsorships, our endowment fund continues to grow and will enable the foundation to continue its mission to strengthen and improve the quality of life in our local communities." A majority of the Ideal Community Foundation's funds are raised through its annual charity golf tournament.
At the tournament dinner, participants learned about Ideal's involvement in the MN Brain Tumor 5K, for which the credit union recently received a 2017 Dora Maxwell Social Responsibility Community Service Award from the Minnesota Credit Union Network and Credit Union National Association (CUNA). The 2017 MN Brain Tumor 5K, sponsored by Ideal Credit Union and the Ideal Community Foundation, hit a new milestone this year, breaking the half-million dollar mark for total fundraising since its inception in 2010. To date, the annual event has raised $541,397 for brain tumor research. All proceeds benefit the Musella Foundation for Brain Tumor Research & Information, Inc.
For the past seven years, Ideal CU and Ideal Community Foundation have provided monetary and volunteer support to the MN Brain Tumor 5K. For the past three years, the event has been planned and coordinated by a dedicated group of Ideal CU employees, who make up almost 50% of the planning team. Organizers attribute the success of the 2017 event to the addition of new 5K committee members, increased use of email marketing, social media, extraordinary teamwork and generous support from sponsors like Ideal and the Ideal Community Foundation.
Established in 2005 as the official philanthropic arm of Ideal Credit Union (formerly Postal Credit Union), the Ideal Community Foundation is a nonprofit 501 (c) (3) dedicated to strengthening the quality of life in the greater Twin Cities metro area. In the past decade, the foundation has invested hundreds of thousands of dollars into early childhood development, financial literacy programs, local food shelves and food programs, veterans' groups, affordable housing projects, Salvation Army Coats for Kids drive and many other worthy causes.
The Ideal Community Foundation focuses its support on organizations and initiatives that further its mission. It operates under the guidance of a Board of Directors, which oversees its financial management, sets policies and procedures for fundraising and grant making in accordance with its by-laws and mission. The foundation board thoughtfully reviews each request based on its ability to support its efforts and grants dollars where appropriate.
Donations to the Ideal Community Foundation are tax-deductible and funds received are reinvested into the community. Contributions can be made at any Ideal Credit Union branch or by mail. Make checks payable to: Ideal Community Foundation, 8499 Tamarack Road, Woodbury MN 55125