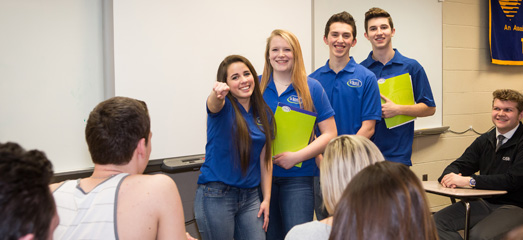 (Woodbury, MN – September 20, 2016) – Ideal Credit Union has been honored with a 2016 Desjardins Youth Financial Literacy Award for its "Money Talks" Financial Literacy program. The unique peer-to-peer program is taught by high school age Ideal Student Credit Union employees to high school age students, and features the building blocks of personal finance: budgeting, savings and investments, credit, and money management tools. Ideal Credit Union's winning entry now moves to the national competition, where it will compete with financial education projects from credit unions in other states.
This is the second time the Money Talks program has earned Youth Desjardin honors. "Ideal Credit Union is committed to financial literacy and to helping youth develop lifelong skills for managing their money," said Ideal CU President/CEO Brian Sherrick. "The overall program objective is to provide the ability to use knowledge and skills to manage financial resources effectively for a lifetime of financial well-being."
Sponsored by the Minnesota Credit Union Network (MnCUN) and the Credit Union National Association (CUNA), the Desjardin award recognizes leadership within the credit union movement on behalf of youth financial literacy. The award is named in honor of Alphonse Desjardins, the founder of the North American credit union movement, and an ardent believer in the value of teaching children to save, and he promoted the idea of in-school savings programs.
Ideal CU has operated a student-run branch since January 2013 at Tartan High School in Oakdale, MN. Located in the DECA school store, the Ideal Student Credit Union is an innovative approach in business education, teaching students the basic principles and practices of the Financial Services Industry. The "Money Talks" educational series, developed in partnership with Tartan DECA students and school leaders, is held several times throughout the school year.
Approximately 300 students have been through the "Money Talks" financial literacy program since its inception in 2013. Participants earn a $100 cash stipend for completing the course and passing the "I'm Financially Ready" exam. To-date Ideal CU has awarded over $30,000 to students completing this program.
Ideal CU offers a suite of student financial products to help youth build their financial future, including Free Student Checking, a Student Savers CD and a unique Credit Builder loan to help establish that all-important credit rating.
Founded in 1926, Ideal Credit Union is a member owned financial institution that specializes in providing excellent member service, great rates and convenience. Ideal CU offers a complete range of services, including a full suite of electronic banking products, savings, checking, loans, mortgage products and title services, exclusive VIP member payback, business services, investment services and more. Visit idealcu.com for details and locations.