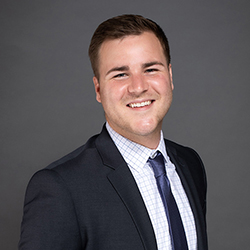 (Woodbury, MN – July 23, 2021) Jake Asmussen has been hired as Ideal Credit Union's new AVP of Consumer Lending. In this role, Asmussen will oversee the consumer underwriting, indirect, and consumer processing areas of the credit union. He will lead multiple teams to ensure quality lending decisions and compliance with all government regulations in relation to consumer direct and indirect lending.
Asmussen brings 10 years of experience in the financial services industry to Ideal Credit Union. His prior roles have included Assistant Manager of Underwriting, Loan Underwriter, and F.S.O./Jr Commercial Credit Analyst. He has also worked as a Loan Officer directly assisting members with their consumer lending needs
Outside of work, Asmussen enjoys Minnesota summers at the lake, quality time with his family, friends and pets, and desert vacations to the southwest. He also has a passion for food and preparing new recipes.
"We're very excited to have Jake join our team," said Faith Tholkes, SVP of Mortgage and Consumer Lending. "His ability to make sound lending decisions coupled with his compassion for credit union members and their needs will be an asset to our mission of helping people live their ideal lives."
Founded in 1926, Ideal Credit Union is a member owned financial institution that is dedicated to providing financial services driven by a sincere and personal interest in the needs of our employees, members and community. Ideal CU offers a complete range of services, including a full suite of digital banking products, savings, checking, loans, mortgage products, business services and more. Offices are located in Eagan, Hugo, Inver Grove Heights, North St. Paul, Stillwater and Woodbury. Visit idealcu.com for details and directions. Ideal has been voted "Best Credit Union in the East Metro" five years in a row by readers of the Stillwater Gazette, "Best Credit Union in the Forest Lake Area" by readers of the Forest Lake Times, and was named a 2021 Star Tribune Top Workplace. Federally insured by NCUA. Equal Housing Lender.