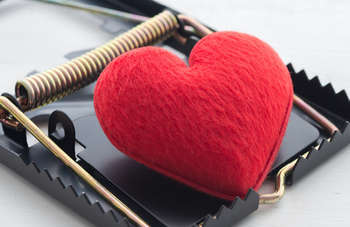 Love is in the air, and that means scammers are out in full force trying to con love-seekers into giving up their hearts — and their money — for a love interest who doesn't actually exist.
Romance scams have been around for a while, and they're unfortunately on the rise: a record $304 million in losses related to romance scams was reported to the FTC in 2020, up by nearly 50% from 2019.
Here's all you need to know about romance scams and how to protect yourself from getting your heart and wallet crushed by one of these schemes.
How the scams play out
In a romance scam, a scammer will create a bogus profile on a dating site or app, or reach out to their target on popular social media platforms. They'll strike up a remote relationship with the target and work to gain their trust. The scammer will claim they can't meet their new "dating partner" in person, citing any number of reasons from serving in the military, to working on an oil rig, to being stuck overseas and unable to travel.
After several weeks have passed, the scammer will invent a story aimed at persuading the target to loan them a significant amount of money for any of these alleged costs, or a similar phony expense:
A plane ticket or other travel expenses
Emergency surgery or other medical expenses
Customs fees to retrieve a lost item
Gambling debts
A visa or other official travel documents
Bail for an arrest
Unfortunately, at this point in the relationship, the target may be in too deep to recognize a scam and will often part with their money. The scammer, of course, will ask for the funds to be given via prepaid gift card or wire transfer, making it nearly impossible to reverse the payment or trace its destination. Once the payment has been made, the scammer may disappear from the target's life. They may try their luck again by asking for more money a few weeks down the line, repeating the scam until the victim finally grows suspicious.
Red flags
Protect yourself from falling victim to a romance scam by looking out for these red flags when searching for a dating partner online:
The dating profile is too perfect to be true
When asked about an in-person meeting, the "date" is evasive
The love interest seems super-eager to build a relationship
How to avoid romance scams
In addition to looking out for red flags when browsing online dating apps and websites, there are several steps you can take to keep yourself safe.
First, if a dating profile seems suspicious, do a reverse image search on the photo. If the photo turns up in another profile under a different name or is revealed to be a stock image, you're likely looking at the dating profile of a scammer.
Next, you can look up the name on the profile with words that are relevant to their alleged background, like "US Army scammer" or "heart surgery scammer". If the scammer has pulled off this scheme in the past, a search should bring up enough breadcrumbs to confirm your suspicions.
Finally, never send a prepaid gift card or wire money to a contact you haven't met. If asked to send funds to a love interest you've never seen in person, you're probably being scammed.
If you've been scammed
If you've fallen for a romance scam and sent the scammer a prepaid gift card, immediately contact the company that issued the card and let them know about the scam. Some card issuers can refund the money spent on a fraudulent charge. It's also important to notify the FTC at ReportFraud.ftc.gov. Finally, alert the customer service of the website or app where you met the phony single so they can take appropriate action.
A new love interest is always exciting, but don't let your feelings cloud your judgment. Stay alert when seeking a new dating partner through an online forum and stay safe!