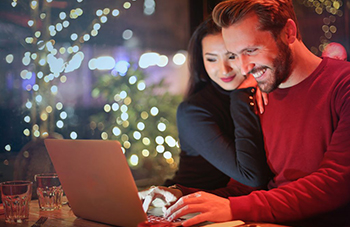 Ideal Credit Union dedicated the month of March to Cyber Security Awareness Month and has recently partnered with Jim Stickley, a nationally recognized cyber security expert and his company, Stickley on Security, to provide education and resources for keeping your information safe online.
Highlights included the introduction of Ideal's new Cyber Security Center and two live Cyber Security Webinars.
Two live webinars featuring CEO of Stickley on Security Jim Stickley were held on Tuesday, March 23 and are now available to view any time on www.idealcu.com/cyber-security. During the events, Stickley and host Alisha Johnson, Ideal CU Chief Marketing & Sales Officer, discussed the latest scams to be aware of during the COVID-19 pandemic. To accommodate both consumer and commercial members, one webinar focused on personal security and the other explored the more advance measures business owners need to take to keep employee and customer information secure.
Ideal's new Cyber Security Center was also introduced in March. Powered by Stickley on Security, this newsfeed provides members with the most recent updates in information security. The feed updates daily and includes hundreds of articles ranging from Identity Theft to Mobile Security. A weekly Cyber Security Email Newsletter is also available to deliver the most recent articles directly to readers' inboxes!
About Jim Stickley – Stickley on Security was founded in 2007 by Jim Stickley. He is a businessman and investor often referred to as a bank robber for his 25 years' experience exposing security vulnerabilities for financial institutions, Fortune 100 corporations, healthcare facilities, legal firms, and insurance companies. He has been featured in numerous magazines and newspapers including Time Magazine, Business Week, and New York Times. He has also been showcased on numerous television shows including NBC's "Nightly News", CNN's "NewsNight", CNBC's "The Big Idea", and is a frequent guest on NBC's "Today Show."