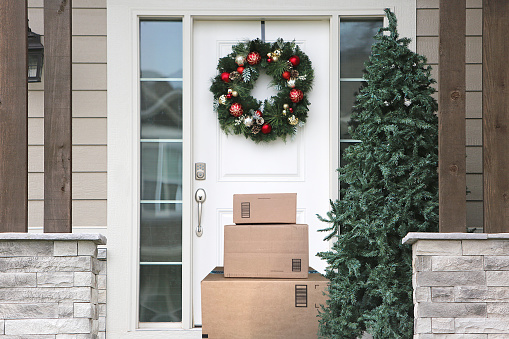 Holiday shopping season is upon us and your (not-so) friendly neighborhood porch pirates are gearing up to pilfer the holiday treasures being delivered to your doorstep. Here are some ways to conquer the porch pirates and lay claim to the best holiday ever.
Have your packages delivered elsewhere - Having your packages delivered to your office is one of the best options, especially since you can hide the gifts from your family. If this isn't an option, have orders shipped to a neighbor or family member who's home during the day. FedEx packages can be picked up at one of their offices or participating Walgreens locations. UPS packages can be received at a local UPS Store, CVS or Michaels, or you can arrange to have them delivered on a day when you are home.
Let the delivery person in - A total of 17 percent of respondents to a recent PCMag survey of 1,500 people said they have a smart lock allowing them to unlock their door by smartphone or computer. Video allows you to see who is at your door and instruct delivery people where to drop the packages and then lock up after they leave. Smart locks range in price from $100-$300.
Have packages delivered to your car - Key by Amazon allows Amazon Prime members to have their packages left in their home, garage or even their cars. Download the app to have your items shipped to your car within hours. Check the app or website to see if your product, vehicle and address of the vehicle are eligible for delivery. Pick a delivery time and you're set. You will receive notification when your package is out for delivery and when the driver is en route.
The Amazon website says select makes of vehicles, model years and an active connected car service plan, such as OnStar and On Call are required. Key In-Car Delivery cannot handle heavy or bulky items weighing more than 50 pounds.
Track your packages - If high-tech gadgets aren't your thing, simply use your low-tech skills to track your packages. UPS, the U.S. Postal Service, Amazon and FedEx all offer tracking online. Sign up for USPS Informed Delivery; UPS offers the My Choice or FedEx's Delivery Manager to keep track of deliveries. Tracking information for Amazon packages can be found in your order details.
Ideal CU wishes you a safe and happy holiday shopping season.