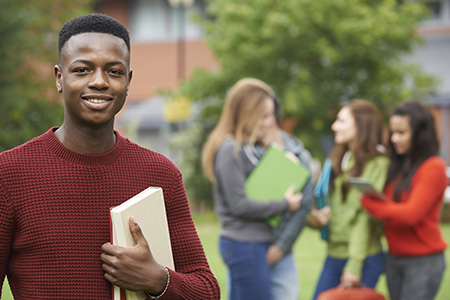 Choosing where you go to college isn't an easy task.
We recommend you touring some of your favorite campuses to explore the environment and what fits your needs. Read along to learn how you can tour a college campus.


Get help from the school
Many schools offer discounted lunches, hotel stays, free shuttle service or even free airfare. Blog.collegegreenlight.com keeps a list of every college that offers fly-in programs, and it's updated annually. If your target school isn't on the list, it's always worth a phone call to the admissions office. Not only can they connect you with resources to make your trip more affordable, they may also be able to arrange meetings with professors or other students who can make your trip more worthwhile.
Tour from home
You can conduct a tour from the comfort of your own home with the help of the internet. Many college websites have all the information you'd learn from a college tour and more, including a virtual tour visitors can take on their own time. You can even go to youvisit.com to browse over 100 virtual tours, complete with video tours and real students acting as tour guides.
Translate visits into savings
Some colleges offer fee waivers for students who visit. Most fees are only about $50 (unless you're applying to one of the big name schools — Harvard charges as much as $75 per application). But $50 multiplied by the average of seven schools each student applies to in a given year adds up to $350 saved by visiting the college in person.
Schedule for efficiency
Most college tours take less than an hour, and most "college towns" have many colleges within a short driving distance. If you want to speed through, going for quantity over quality, you can hit quite a few in one day. But while the tour might be quick, it might not show as much "demonstrated interest" in a college if you were to dine and dash.
Tour with a group
College group tours are growing in popularity. They can save you hundreds of dollars while making sure you see as many as 21 colleges in eight days. These tours cover the cost of hotels, transportation and meals. You can check out some of these tour groups at college-visits.com.