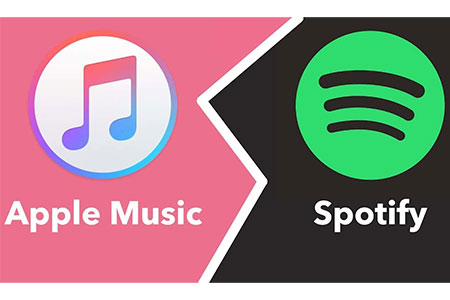 How do you get your jams? Do you buy every song on iTunes? Are you a radio junkie?
If you're like most people embracing the convenience of the digital age, you probably use a music-streaming service to have all your tunes at your fingertips.
Here's what you need to know about the two most popular music apps:
Spotify
Spotify was the first service of its kind, and is still the most widely used music app on the market.
The streaming service offers access to a 30+ million song database and claims to add another 20,000 daily. This extensive library includes the latest releases, live sessions and new singles that haven't even hit the internet yet. The convenient "New Releases" tab on Spotify's homepage grants users instant access to their favorite artists' most recent songs and albums.
With 70+ million users and counting, the streaming service is clearly doing a fantastic job.
Best features:
Spotify excels at identifying and catering to users' individual tastes.
The service offers playlists like Release Radar, New Music Friday and the ability for subscribers to create their own playlists with one quick touch.
Perhaps the best feature is their Discover Weekly playlist. Each Monday morning, Spotify delivers a two-hour playlist to each user. The list is based on the subscriber's listening history and the favorites of those who listen to similar hits. It's a great way to try out new artists and songs that fit your tastes.
Glaring glitches:
At $9.99 a month for Spotify Premium, the service isn't cheap. Although, if you're a college student, it's just $4.99 a month. You can opt to use the complementary version only, but you might find it super annoying to have your favorite jamming sessions rudely interrupted by intrusive ads. Also, the free version offers very limited offline access and you can use up your data really quickly.
Apple Music
Like everything Apple does, Apple Music is trendy, hip and visually striking. The streaming service only went live in 2015 and already boasts upward of 30 million subscribers. With the backing of a stellar company like Apple, that number is sure to rise exponentially.
Best features:
Apple Music integrates fully with all Apple devices. This not only means you can tune in using any Apple device you own, but you can upload all the music you've already got on these devices directly to your Apple Music library. This is true whether it was ripped from a CD, purchased on iTunes or uploaded to iTunes Match.
Spotify only allows you to upload your music files to a separate tab, so there's no way to do a broad music search like users can with Apple Music.
The streaming service also touts a library of more than 40 million songs, giving it an automatic leg up on Spotify's library of 30 million tunes.
Apple Music has a pricing plan similar to Spotify, but Apple offers significant discounts for students, family plans and for subscribers purchasing 12 months of service at a time. The app is pre-installed in most Apple devices, offering users a free trial and, ultimately, leading many to sign up for the paid version when the complementary period is up.
Glaring glitches:
When you first sign up to Apple Music, you'll be asked to select your favorite songs and artists. The interface for this feature is a digital ball pit, with each ball representing an artist that you'll tap to show your preference. While the feature is visually appealing, users complain that the graphics obstruct its functionality, especially on mobile devices where the balls quickly jam up the screen and make it difficult to use.
Thankfully, once the process is complete, Apple Music seamlessly curates playlists that match your personal taste.
How they stack up:
App

Subscribers

Price

Library

Curated Playlists

Spotify

70 million

$9.99 a month

30+ million songs

Yes

Apple Music

30 million

$9.99/month or
$99/year

40 million songs

Yes