Ideal Student Credit Union

Located at Tartan Senior High School.
Promoting Financial Literacy In Your School
Opened for and run by students, the Ideal Student Credit Union located at Tartan High School offers ways to help students manage their money and build a financial foundation for the future. It also provides financial education opportunites for those that want to learn the basics of the Financial Services Industry, such as the Money Talks Financial Education Series.
---
Register For The Money Talks Winter Course

Through this 3-part series, students will learn how to:
Budget, save, and invest money
Build & uitlize credit and weigh the benefits/risks of credit products
Manage accounts and finances via online and mobile banking
Learn & Earn $100*
Students who attend all three sessions as well as score 80% or higher score on the "I'M FINANCIALLY READY" exam will earn a $100 cash stipend deposited into their share savings account at Ideal Credit Union. Students must open a Share Savings account at Ideal CU prior to the first session on Tuesday, January 24th, 2017.
When & Where
Sessions will be held at Tartan High School in the Tartan DECA classroom from 3:00 pm to 4:30 pm on the following dates:
Tuesday, January 24th
Wednesday, February 1st
Tuesday, February 7th
*Students must have or establish a Share Account with Ideal Credit Union before completion of the course in order to receive the $100 stipend. Only students of Tartan Senior High School are eligible for this Money Talks fall course. Students may only take the course and receive the $100 cash stipend once. Should space permit, students may take the course an additional time but WILL NOT receive the $100 cash stipend.
---
Open Your Account
Stop into the Ideal Student CU located in the DECA School Store to meet Hattie, Morgan and Holden. They'll set you up with an Ideal Student Checking, which provides you with everything you'll need to manage your money this school year, including: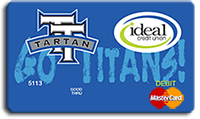 No monthly maintenance fee
No minimum balance requirement
Great convenient benefits
Open your account online using promo code Tartan to receive your custom Tartan debit card and your $10 Chiptole gift card!