What does Ideal CU have to do with Tartan High School?
Tartan High School is home to the Ideal Student Credit Union. Opened for and by students, it offers ways to help them manage their money and build a financial foundation for the future. It also provides financial education opportunites for those that want to learn the basics of the Financial Services Industry, such as the Money Talks Financial Education Series. Learn more about the Ideal Student CU at Tartan.
---
Discover "Get Wiify" for a chance to win a $10 iTunes* gift card

How to win:

Each day of the week we will post a "Get Wiify" keyword on the Ideal Student CU front desk located in the DECA School Store. Collect all five and submit your answers here on Friday, May 24. On Monday, April 27, we'll choose two lucky winners to receive a $10 iTunes gift card!
Two $10 iTunes gift card winners
Two winners will be selected via random drawing on Monday, April 27 to receive a $10 iTunes gift card!
*Contest limited to students of Tartan High School. See Official Rules.
---
The Tartan Ideal Cash & Check Card is a great way to say "GO TITANS"
Stop in after school and meet Barkot, Bailey
and Hannah, your new Ideal Student CU Team! They'll set you up with a FREE Ideal CU Student Checking Account, which provides you with everything you'll need to manage your money this school year, including: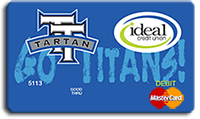 No monthly maintenance fee
No minimum balance requirement
Great convenient benefits
All this and more makes the Free Student Checking your premier choice for staying connected to and in control of your money 24/7!