Ideal Credit Union Collects 224 Coats for Kids, Donates $2,500 for 156 more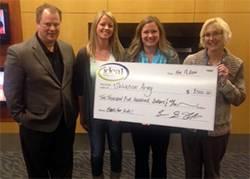 Ideal Credit Union members, staff and the community once again helped to fill collection barrels to ensure kids in the Twin Cities metro area receive new or gently used coats this winter. A total of 224 coats and 123 winter accessories were collected at Ideal Credit Union branch locations throughout the year, culminating with the October Salvation Army Coats for Kids Drive. In addition, the Ideal Community Foundation donated $2,500 from Casual for a Cause and other contributions, which the Salvation Army will use to make 156 for needy children.
---
Ideal CU Staff lends a hand at second harvest heartland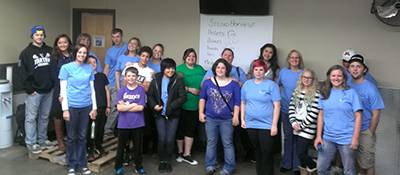 1 in 8 MN children are at risk of hunger. That statistic is startling and got a group of Ideal CU staff motivated to roll up their sleeves and volunteer at Second Harvest Heartland last October, 2014.
This group prepared 12 pallets of
food, which equals 600 boxes, 18,000 pounds, and 15,000 meals to be distributed to those that need it right in our own state.
---
Ideal CU Community Foundation Fifth Annual Golf Tournament
Sets New Record for Funds Raised

A new venue, sunny skies and a strong showing of support enabled the Ideal CU Community Foundation to raise a record $16,800 at its fifth annual golf tournament on September 8, 2014, which was $3,000 more than the previous year. The event, held at StoneRidge Golf Course, attracted 127 golfers and 41 event and hole sponsors. The foundation will use the funds to aid local education, food shelf and community initiatives. During the tournament dinner, participants heard from one of the recipients of foundation funds, Tartan High School DECA advisor Craig Spreiter. Spreiter said a lot of times foundations raise money, but the people who support and donate don't have any real connection to how that money is used or being spent other than through a bulleted list in a report. "As a teacher I can share with you how much of an impact the foundation and this tournament today have had. The foundation has donated over $3,000 this past year to Tartan's Relay for Life fundraiser, our BPA program and to Tartan DECA. Six of my DECA students advanced to the International Conference last May and two of them almost didn't go because of the cost; $1,500 of that donation went to those students and one went on to win 5th place in the Professional Selling event. Without that donation he wouldn't have been there," Spreiter stated.
---
Ideal CU volunteers deliver over 5,000 meals during our
11 year commintment to Meals on Wheels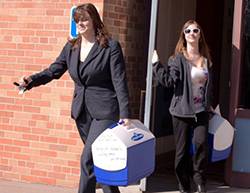 For the past 11 years, Ideal Credit Union (Ideal CU) Meals on Wheels volunteers have delivered a nutritious meal and friendly smile to elderly and disabled recipients in the North St. Paul area. Since their first delivery in July of 2003, Ideal CU volunteers have never missed a regular Thursday delivery, a fact that has not gone unnoticed by Gladstone Meals on Wheels volunteer coordinator Gigi Fitzpatrick.
"As our Ideal CU Meals on Wheels volunteers know, MOW is SO much more than food. Our volunteers may be the only person our client sees all day, "Fitzpatrick stated. "The number of meals delivered by Ideal CU volunteers is nearly 5,000. The value of the Ideal CU volunteer commitment can't be measured just by the dollar amount of the cost of keeping our clients in their homes or the number of meals delivered. Instead, they can be measured by the smiles on the faces they touch. Those smiles can't be measured in economic terms – no one can put a dollar value on all those smiles," she added.
Ideal CU President/CEO Brian Sherrick recently presented a check for $1,500 to the Gladstone Meals on Wheels program to help continue its good work. "We value the great service this program provides to our community, and we are honored to do what we can to support it, both financially and through the dedication of our employees, who are the real champions of this cause."
---