Wild About Saving™ - National Credit Union Youth Month™

Visit Ideal CU April 1-30 as we celebrate National Credit Union Youth Month! Your Ideal mini-members are sure to go wild about saving with a free t-shirt and sunglasses at account opening, a coloring contest, and a chance to win $100! Take a look at all of our Youth Month activities below.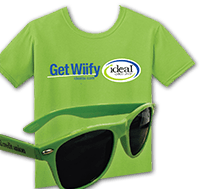 T-Shirt & Sunglasses for New Youth Savings Accounts
Bring in the kids to open a new Ideal Youth Savings account. They'll get a fun "Get Wiify" t-shirt and some hip Ideal sunglasses!
Financial Literacy is a priority at Ideal CU
What: Make a deposit into a Ideal CU Savings account during the month of April
Who: Ideal CU Members under age 18
Why: Establish good savings habits early. One lucky Ideal CU Member who participates in the Youth Challenge will be randomly chosen and win a $100.
Ideal CU is proud to participate in the National Youth Savings Challenge encouraging kids across America to save early and often at their credit union. As a supporter of financial literacy, Ideal CU believes in creating savings habits at a young age to sustain a healthy financial future.
It's easy to save and win*
Every Ideal CU member age 17 and under is eligible to participate in the Savings Challenge. Make a deposit into a Ideal CU Savings account of any kind, in any amount April 1 – 30. The youth's name is entered into our drawing for $100. Plus, we're giving away some pretty cool mustache t-shirts at each Ideal CU branch during the month of April just for fun.
New Youth and student account specials

Ideal CU welcomes everyone in the Twin Cities area and beyond to open an account (no affiliation with the post office is required). Minor accounts require a guardian's signature. A savings account with a deposit also makes the perfect gift for your little darlings.
New Bucky Bear Savings Accounts opened though April 30, 2013 get a free (awesome) t-shirt
LEARN MORE
$5 Subway Gift Card and Free t-shirt with new Student Checking through April 30, 2013
Learn More
Learn more about Ideal CU's youth-friendly products and services